Galería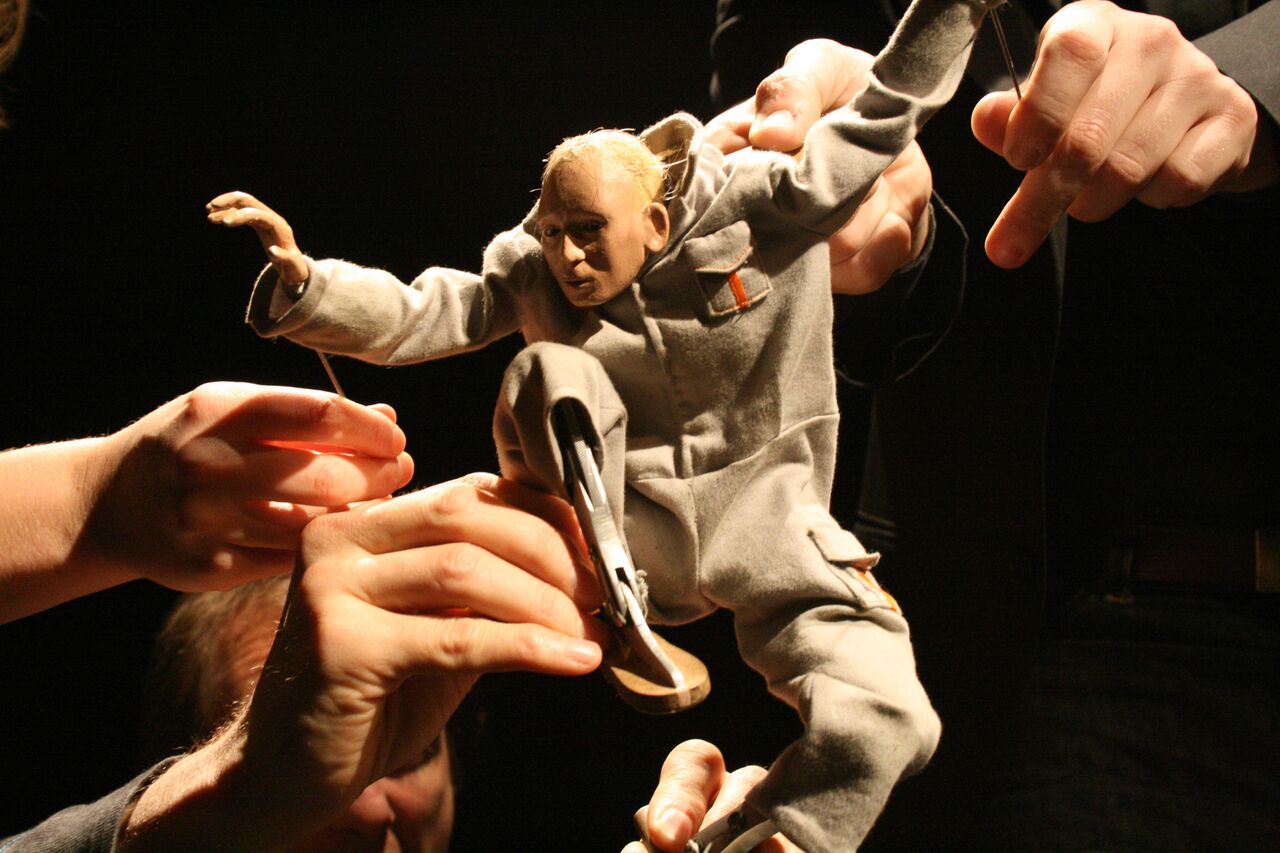 Teatro Blind Summit
Compañía británica fundada en 1997 por Nick Barnes y Mark Down, con el objetivo de hacer un trabajo innovador para público adulto. Además de sus propias producciones, todas escritas o adaptadas por ellos mismos, Blind Summit colabora regularmente con compañías de ópera, danza, teatro y arte como asesores, y para proporcionarles y/o dirigir la parte de los títeres. Además, la compañía forma nuevos profesionales de este arte. Las producciones del Blind Summit incluyen Mr China's Son (El hijo del Sr. China, 2002), The Spaceman (El astronauta, 2003), Pirate Puppetry (Títeres piratas, 2003), Low Life (Bajos fondos, 2005), 1984 (2009) y The Table (La Mesa).
Sus colaboraciones incluyen Madam Butterfly (2005, también en 2009, 2011 y 2012), con Anthony Minghella,  para la Ópera Nacional Inglesa, Opera Nacional y Teatro de Ballet Lituano y la Ópera Metropolitana; Faeries (Hadas, 2008, repuesta en 2010), con Will Tuckett, para la Royal Opera House, Londres; The Time Step (El paso del tiempo, 2008) con Linda Marlowe; Masque of the Red Death (La máscara de la Muerte Roja, 2008,) con Punchdrunck para el BAC (Centro Artístico Battersea), Londres; Black River Falls (La cascada del Río Negro, 2008), con Bob Karper; Running the Silk Road (Recorriendo la Ruta de la Seda, 2008), con Yellow Earth, en el Centro Artístico Barbican, Londres; Shunkin (2008, repuesta en 2009, 2010), con Complicite, en el Teatro Setagaya, Tokio y el Barbican, Londres; His Dark Materials (Sus materiales oscuros, 2008), con Birmingham Rep. y West Yorkshire Playhouse para una gira nacional; On Emotion (Sobre las emociones, 2008), con Mick Gordon en el Teatro del Soho; A Dog's Heart (El corazón de un perro, 2010), con los compositores Sasha Raskatov y De Nederlandse Opera, dirigido por Simon McBurney, Ámsterdam y Londres; El gato con botas (2010) con el Tectonic Theatre y Gotham Opera en el Teatro New Victory en Nueva York; Angus Thongs and Even More Snogging (Angus Thongs e incluso más besuqueos, 2012), con Ryan McBride, en el West Yorkshire Playhouse; y Master and Margarita (El maestro y Margarita 2012), con Complicite, en el Barbican, Londres, y en una gira internacional.
El Teatro Blind Summit tiene el apoyo del Consejo de Artes de Inglaterra y del Centro de Artes Jacksons Lane, de Londres.